It's the 2020's where blogging is part of the major marketing strategies top companies and startups like SemRush, Shopify, Ahrefs, Kinsta, and small business owners are using to sell their products and services.
As a beginner, if you are looking forward to kickstarting your blogging journey, in today's guide you will learn how to start a blog with Bluehost service which is valuable for beginners/blog owners.
And since WordPress.org is the most popular blogging CMS which gives you total control over your blogging business, I'll teach you how to start a WordPress blog with Bluehost using some simple steps that I've followed over the years and succeeded.
But why do you need a Blog?
No matter your reasons for wanting to start a blog, I can tell you from my experience that it's worth it and has been my full-time business for years now. So grateful that my blogging business could foot my bills.
So, whether you've been in business a week, a month, a year, or even a decade and you want to express your thoughts and value through writing, increase traffic to your business, help people out, or anything else, you should start a blog. Why?
Starting a blog is cheap and it's fun — not to mention it's a great learning experience and it offers you the opportunity to develop relevant content for your customers/audiences and serves as a sweet marketing tool to drum up sales.
Read on for everything you need to know about how to start a blog in WordPress with Bluehost service in less time to get you running.
Also, why start a blog with Bluehost – the benefits?
#1. Cheap for beginners. You can start your blog with Bluehost at a cheap rate, discounts, and maximum benefits that follow it.
#2. Good speed. One of the blogs I launched on Bluehost loaded at 0.6s as they offer FREE CDN which increases your blog's speed.
#3. Popular and recommended by WordPress.org which speaks volumes about its authenticity. To say the least, Bluehost has a proven track record of being one of the top web hosting companies and continues to be today.
#4. Free Domain name. While others pay up to $12 or more for a new domain, with Bluehost, you get a FREE domain name to start your blogging business.
#5. Instant and Tech Support. Should you run into problems, Bluehost offers instant chat support for you.
#6. Drag and Drop installations. One of the reasons beginners love Bluehost is the fact that you get started by clicking buttons to set it up, with zero coding or programming knowledge.   
#7. Monetize your blog. With the speed Bluehost offers, it encourages good ranking on the internet and also encourages blog monetization.  
#8. Get started at less than $3/mo. By signing up with Bluehost today using our link, you can start your own blog at the lowest cost of $2.75 per month. Amazing, right? Yeah.
Go ahead now and follow the steps below to start a blog + 65% discount with BLUEHOST with a few clicks.
How to Start a WordPress Blog on Bluehost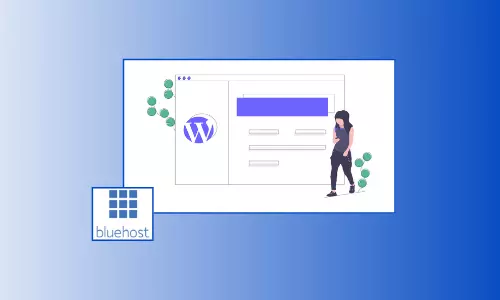 Here are the seven steps to launching your first blog. Let's go!
Step 1: Get a domain
The first step is to choose your preferred domain name like yourbusinessname.com or use the one you already own. It is always recommended to choose the best name for your blogging business which later in the years will turn to your brand name.
For instance, Bluehost.com, YouTube.com, Shopify.com are all unique names and today, are top brand names in the industry.
To your advantage, you don't just get a domain name for free, you also have the option to choose it later on.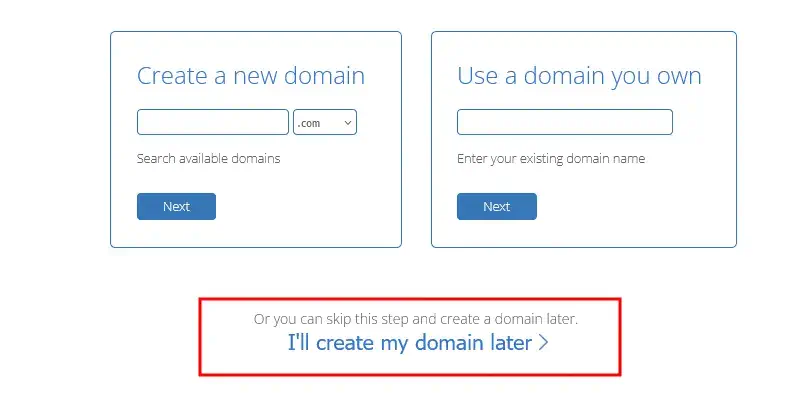 How to get your domain name with Bluehost?
You get a FREE domain for the first year if you buy 12 months' worth of Bluehost web hosting service. That's why I highly recommend you to sign up for at least 12 months of hosting to reap all the accrued benefits for you.
More so, purchasing a 36 monthly plan gives you the BEST value for your money and blogging business as compared to a 12 months plan.  
Having decided to get started and get your FREE domain name as well, click here to get a FREE domain and get started. 

Let's go-ahead to choose a hosting plan.  
Step 2: Choose your hosting plan
Go to Bluehost's main page (the link opens in a new window so you can follow along), and click on the "Host your site" button 🔳. You'll get brought to a page where they show their different hosting packages as shown below.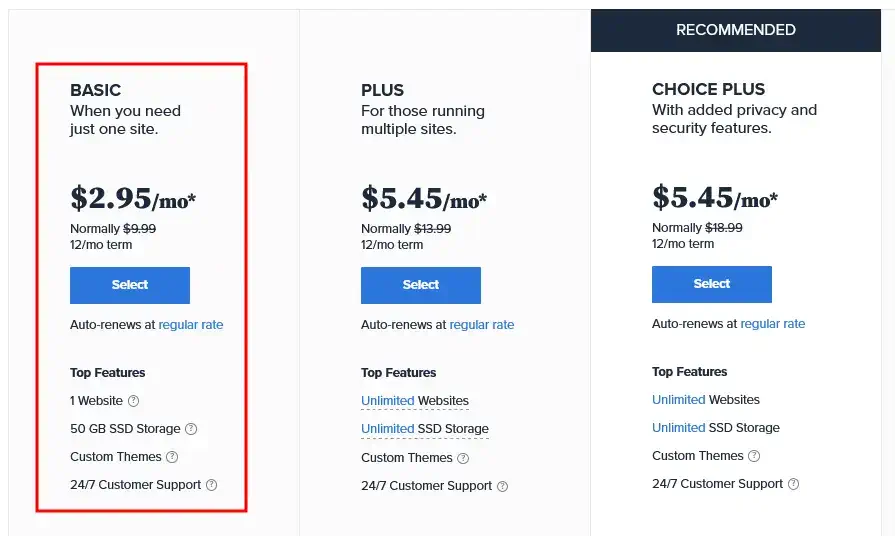 You have the choice between a BASIC Plan, a PLUS Plan, or the most recommended plan which is CHOICE PLUS. However, if you are a beginner, then you will most certainly want to go with the BASIC PLAN.
The difference between the two is that the PLUS PLAN allows for unlimited domain names and storage capacity whereas the BASIC Plan only allows for one and a 50GB storage size.
 So, if you only want one website and don't plan on ever making multiple websites, then you can just go with the BASIC PLAN. However, if you ever think you'll make more than one website, then just go with the PLUS OR CHOICE PLUS.
Alright. Go ahead and hit "SELECT" on the plan of your choosing.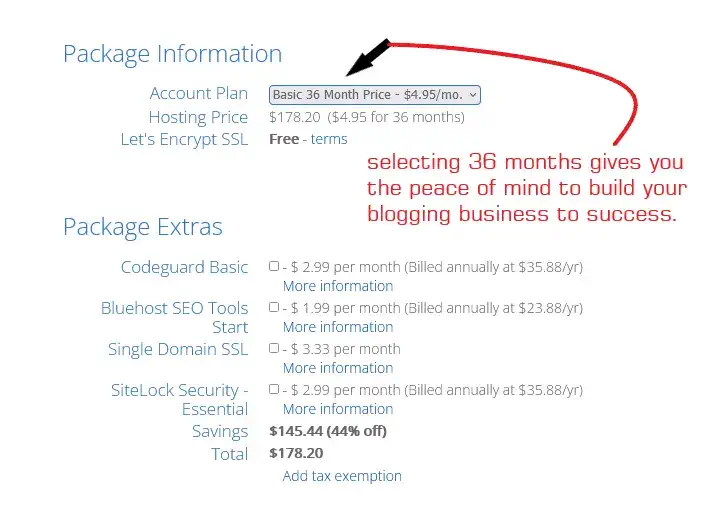 And click to choose the preferred payment option.

In summary.
Go to Bluehost.com and click on the "HOST YOUR SITE" button
Select the Bluehost hosting plan that suits and benefits you the best
Enter your existing domain name, or sign up for a new domain name
Enter your personal details along with payment information
Enter a preferred password to keep your account secure.
Step 3: Connect your domain to your blog.
Bluehost has made connecting your domain to your blog should very simple with a few clicks. Let's see.